BKV Aircraft Hangar Waiting List
To maintain an accurate list of individuals prepared to accept an available hangar when it is offered, the BOCC (Board of County Commissioners) recently approved a directive for anyone wishing to be on the waiting list.
Waiting List Application and Deposit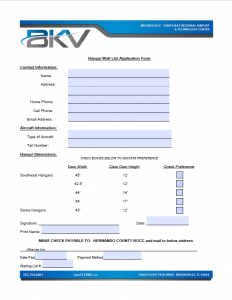 If you wish to add yourself to, or remain on, the waiting list, you are required to submit a $100.00 deposit and a completed Waiting List Application.
Effective June 14, 2021, anyone who is currently on the list but has not made the deposit and completed the Waiting List Application form will be removed from the waiting list. The application is an online fillable form. To complete the form, click on a link above or the image to the right, fill in the blanks then download to your computer, adding your last name as the file name before saving, printing and signing.
Deposits can be in the form of cash, check (payable to Hernando County BOCC) or credit card (Visa or Mastercard).
Please drop off or mail your signed, completed form to:
Brooksville – Tampa Bay Regional Airport
15800 Flight Path Drive
Brooksville, FL 34604
Furthermore, please note the following:
If you wish to remove your name from the waiting list your deposit will be refunded.
If you are offered an available hangar the deposit will be credited to your account to be used toward the security deposit for the hangar.
If you are offered a hangar and refuse it, you will forfeit the $100.00 deposit. If you wish to remain on the waiting list, you will be required to submit an additional $100.00 deposit and your name will be placed at the end/bottom of the waiting list.
We thank you for your interest in basing your aircraft at Brooksville-Tampa Bay Regional Airport.  If you have any questions or concerns, please contact Airport Administration.