Runway 9/27 Project Updates
May 20 Update:
The Runway 9/27 Project is nearly complete. 
Grooving is finished (eight days early). 
Striping begins May 19th. 
Runway 9/27 will be CLOSED during the day – 7:00 am – 7:00 pm – Thursday, Friday and Monday, Tuesday, May 19, 20 and 23, 24. Normal operations on Saturday and Sunday, May 21 and 22.
Runway 9/27 Grooving work is occurring overnight. 
Runway 9/27 Open 7 am to 7pm May 10 to May 26
Please check NOTAMs before operating.
Thank you for your patience while the next phase of Runway rehabilitation project is completed.
The Runway 9/27 Rehabilitation Project is complete except for grooving and the permanent marking application process.
Since the Runway 9/27 closure on February 28, contractors have worked efficiently at milling concrete, regrading and other associated tasks before installing the new, smooth asphalt overlay. Effective April 13, Runway 9/27 is available for use.
Runway 3/21 Closed, effective April 14
Effective April 14 to May 8, Runway 3/21 is closed. Progress has been made to prepare for the Runway Decoupling Project, including construction of new Taxiway B1 (from the apron to Taxiway B TOFA) and C1 (from Runway 9/27 to Runway 3/21), as well as pond regrading.
During the Runway 3/21 closure, Taxiway B1 and C1 will be completed.
PROGRESS UPDATE: MARCH 31, 2022
PAVEMENT APPLICATION NEARLY COMPLETE
Progress Update: March 14, 2022
Pavement begins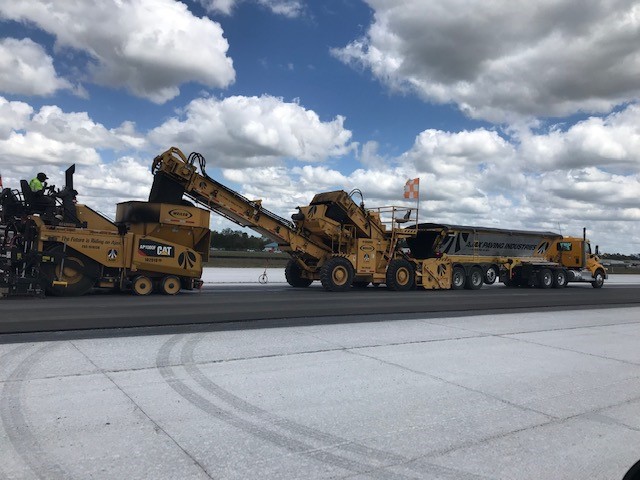 BKV Runway 9/27 Rehabilitation and Decoupling Projects Well Underway:
Mid-March Progress Update
Sounds of airplane take-offs and landings at Brooksville-Tampa Bay Regional Airport (BKV) have been replaced since February 28 by the distant drone of trucks and heavy machinery powering through a major runway transformation. With synchronized efficiency, two specialized concrete milling machines are followed by a procession of dump trucks, a water truck and a sweeper truck. Once full, each dump truck exits the line to unload elsewhere while a new one slips into its place. From end to end, from outside toward the center "crown," the procession continuously works the 7000 x 150 span. In this manner, the top four inches of Runway 9/27 concrete were milled down and prepared for resurfacing. Before wrap-up, the mound of milled concrete was removed for repurposing.
Grinding with diamond drill bits
Key to success are the powerful roto-mills and specialized concrete "basher" drums utilized by Swank Construction Company. Two of these distinctive machines featuring tank-like treads and an up-angled conveyor belt continuously roll west to east and east to west. Using industrial diamond drill bits with water in a central drum, the machines grind up and ingest concrete from the bottom and dispense it out the top. While roadway milling in preparation for resurfacing and paving is common, it often involves asphalt or other surface type; the ability to reliably mill concrete runways is more specialized.
On Schedule
Thanks to favorable weather and other efficiencies, Runway 9/27 concrete milling is complete ahead of schedule. Other major progress since the February 28 project inception includes Taxiway C9 reopening after milling and pavement overlay, Runway Safety Area regrading, glideslope road construction and Runway 9 windsock relocation.
While the Runway 9/27 Rehabilitation occurs, work on the Decoupling from Runway 3/21 Project is on track. Earth moving equipment has begun to construct new Taxiway B1 and Taxiway C1, as well as regrading of the retention pond. Concrete pipes are currently being positioned for installation.
An important part of any Florida development includes relocation of Gopher Tortoises, a protected species. At BKV, the tortoises were moved to a 9.5-acre parcel on the airport eastern perimeter. The land is marked by temporary fencing for six months to allow the animals to become established.
Runway 9/27 is closed and will reopen April 14 after the resurfacing and asphalt paving work is complete. During the Runway 9/27 closure, Runway 3/21 remains open.
Please check FlyBKV.com for progress updates and runway closure information.